What is Biwako Food?びわこフードとは
About Our Three Businesses.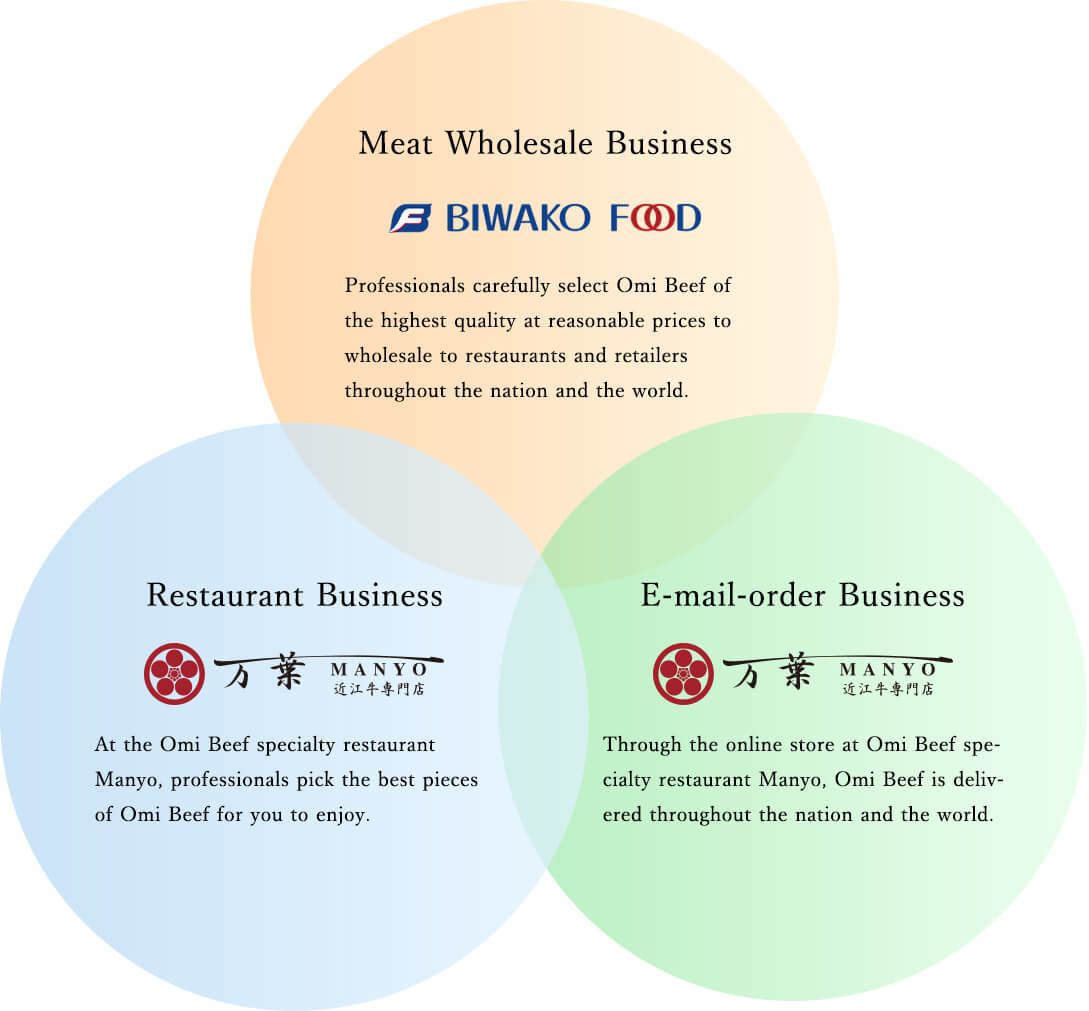 Biwako Food Co., Ltd. is expanding its meat wholesale, restaurant, and e-mail-order businesses.
To protect the Omi Beef brand, our company's role is to develop a path for it to become a top global brand.
Our history, from inception to now

Father of the Company President Kazuo Sano founded meat wholesaler Sano Shoten in 1945.
I've been told that we were in the meat wholesale business since my grandfather's days, but I don't know the dates it all started. However, it is said that the family line has deep ties to the meat industry. I helped my father as a student, then got totally involved after graduation. In July 1984, when I took over, we changed the name to Sanoya Sohonten.
In February 2008, Biwako Food Co., Ltd was formed. Sales continued to head in the right direction, but our delivery route was still exclusively for retailers. Year by year, our desire to deliver Omi Beef directly to consumers and to hear their honest feedback grew and grew because of the pride we have in our product. We felt the limitations of our family store, and people were recommending us to change, so during this year, we made a big change and became a corporation.
In 2007, the Shiga Meat Center opened in its current location. In 2009, it was officially licensed, and Biwako Food started exporting Omi Beef to Macau. We had entered the export business, a big opportunity for us. After that, the Japanese food and wagyu boom started, and our business expanded to Hong Kong, Macau, Thailand, Singapore, the Philippines, Vietnam, Indonesia, Malaysia, the EU, the US, Myanmar, Taiwan, and Australia. Our export business continues to expand.
Turning Omi Beef into a leading global brand

In 2007, the Shiga Meat Center is authorized to export to Macau and Thailand. After that, a Japanese cuisine and Wagyu boom led to business with Singapore, the Philippines, Vietnam, Myanmar, and Taiwan. The limitations of their facilities were tested.
The Center was not alone; Biwako Food was searching for solutions. As a result, in 2014, we worked toward realization of a licensed facility for exporting globally and began efforts to be able to slaughter and export Omi Beef to the world. Biwako Food greatly contributed to the process through its stable shipping system and its established distribution routes around the world.
Today, exports account for about 20% of Omi Beef sales, but future forecasts indicate exports will eventually reach 50%. As the wealthy class grows in countries experiencing economic expansion, Japan's Wagyu will be sought out. In countries where consumption of Wagyu, not just Omi Beef, is rising, our product will be marketable.
As we deliver Omi Beef to countries around the world, we have great hope that local people will find pleasure in our delicious beef. The beef is not cheap when compared to the local market prices. But we can deliver value beyond just the price. We are making efforts to guide people in the use of meat-processing technology and teaching about the processes that make the beef even more delicious.
Company History
Sano Shoten formed as a meat wholesaler
Opened a Sanoya retail shop in Kusatsu
Opened a Sanoya retail shop in Ritto
Name changed to Sanoya Sohonten
Biwako Food Co., Ltd. established