About the Meat Wholesaling Business食肉卸事業について
Points on selecting the best beef

Many people will be familiar with the idea of producer sourcing. Of course, there are good producers. But we believe that the good and bad are both sort of average. Even with a producer who is a little below average, you can find delicious beef based on pedigree and bloodlines. If you get too obsessed with the producer, you may overlook the quality of the beef.
That's why we don't discriminate by producer. Instead, we go to the market each time, and look for the quality of the beef, the marbling, and the yield. We don't worry about price when we buy our stock. That's because our underlying motivation is to make our customers happy.
At times, that means we have to take a loss. But there is nothing better than preparing the best beef possible on that day and bringing pleasure to our customers.
Within the industry, Biwako Food is known for always buying the best-quality beef. We are glad that our loyal customers hear about us this way. We don't worry about the immediate price, because the long view is important to us. That positively affects the environment far beyond our company doors.
About the thorough hygiene management at the new factory

Our new factory started operations in June 2019. We are planning to get it HACCP certified.
We have raised the level of our hygiene management, starting with air curtains and adding equipment that passes stricter hygiene standards. Now we can deliver Omi Beef with even more security and safety than before.

<About HACCP>
This is a food hygiene management system developed in the US during the 1960s. It became required in the US in 1997 and in the EU in 2006. It's necessary to meet HACCP requirements when exporting beef from Japan to countries and regions including Hong Kong, Singapore, the Philippines, New Zealand, Mexico, and Canada.
Also, corresponding with the 2020 Tokyo Olympics, HACCP is being implemented systematically. HACCP is a global necessity as it is being used more and more throughout the world.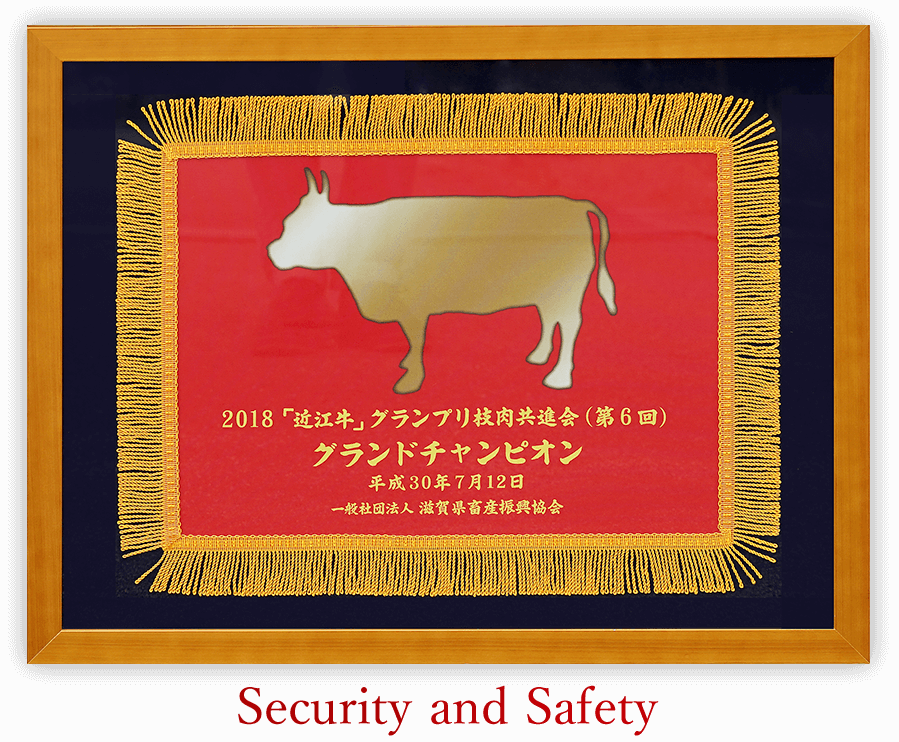 Biwako Food provides stable delivery of various products our customers need besides meat on the bone. There is a limited supply of brand beef and a limited number of distributors, but because of corporate efforts and our collaboration with the meat market, it is possible for us to secure our required quantities of beef.
Of the companies headquartered in Shiga Prefecture, we have the most wholesalers, which means you can be confident of a stable supply.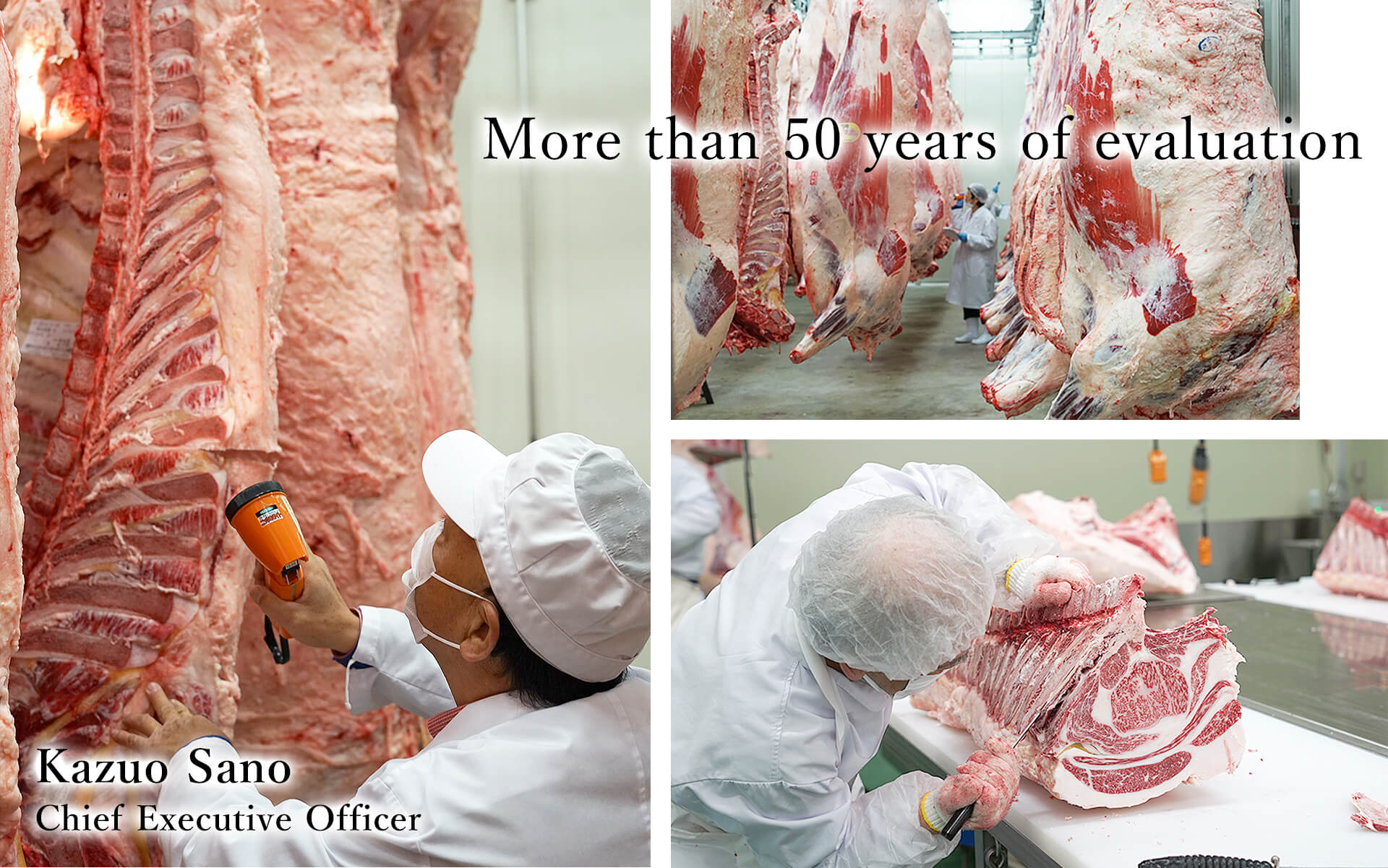 How we have been evaluating beef for more than 50 years
The only way to hone your evaluation skills is through experience. I would check every day the products I prepared to evaluate the color of the beef, the size of the loins, and every other aspect. Today, I don't go on the floor to do the cutting work, because my successors and other employees handle that, but it's true that you can recognize the best parts and the parts that need improvement in the meat you cut by yourself. This is how we evaluate our beef.
For a bidder to identify good beef, we need to face and learn from the beef we buy. Wagyu is a more delicate item, and so we need to continue to work sincerely to hone our evaluating skills.
I started to learn in earnest from my father when I was 18. But all through my elementary and high school days, I would be around the workplace and have a sense of pride in being around the beef. If you ask about my experience, I have more than 50 years of it.
Evaluating beef is not something you can learn by reading a book. It's all about experience. Today, at the Shiga Meat Center, there are auctions twice a week. Since the center opened in 2007, I have never missed one.
Processing technology by skilled artisans
Beef processing is all done by human hands. A skilled artisan can dress a cow without wasting meat, because the master craftspeople have passed down the correct way of doing things. Biwako Food also focuses on training the next generation of butchers.
How does a customer want the meat prepared? What do we need to do to meet the customer's needs? The butchers who treat a customer's vision seriously are the ones who continue to improve.
In the restaurant business today, there is a serious labor shortage. We hear from many people that it is difficult to find artisans who can properly cut beef and butcher a cow. Wagyu is a delicate food. It's not an exaggeration to say that the same piece of Wagyu cut the wrong way loses half its flavor.
As we opened our new factory. We also made efforts to greatly reduce the amount of time our customers need to spend on processing. We try to prepare the beef so that an amateur will not have trouble cutting it, which helps with our customers' labor shortage and labor costs.
How beef is turned into a product.
01Auction

Twice a week, slaughtered beef is laid out at the Shiga Meat Center for an auction. Direct price negotiation with the ranchers also takes place.

02Storage

Beef is stored in our refrigerated space, which is subject to thorough hygiene management.

03Dressing

We dress each cow by hand. The craftsmanship of our skilled staff shines. The bone removal work happens at the same time.

04Shaping Process

We shape the steaks according to different standards. At this stage, we respond to detailed needs for order cuts.

05Vacuum Packaging

Processed beef is quickly vacuum-packed to retain freshness.

06Metal Detection

The beef is inspected to make sure there are no foreign materials like metal or needles.

07Measuring

Once the beef has been measured and weighed, each product is labeled according to specific labeling systems.

08Delivery

The fresh beef is sent to customers throughout nation and the world.